Noutati
Between January 24, 2022 and February 20, 2022, "Nicolae Testemitanu" State University of Medicine and Pharmacy will carry out its teaching activity online
Between January 24, 2022 and February 20, 2022, "Nicolae Testemitanu" State University of Medicine and Pharmacy will carry out its teaching activity online
Between January 24, 2022 and February 20, 2022, "Nicolae Testemitanu" State University of Medicine and Pharmacy will carry out its teaching activity online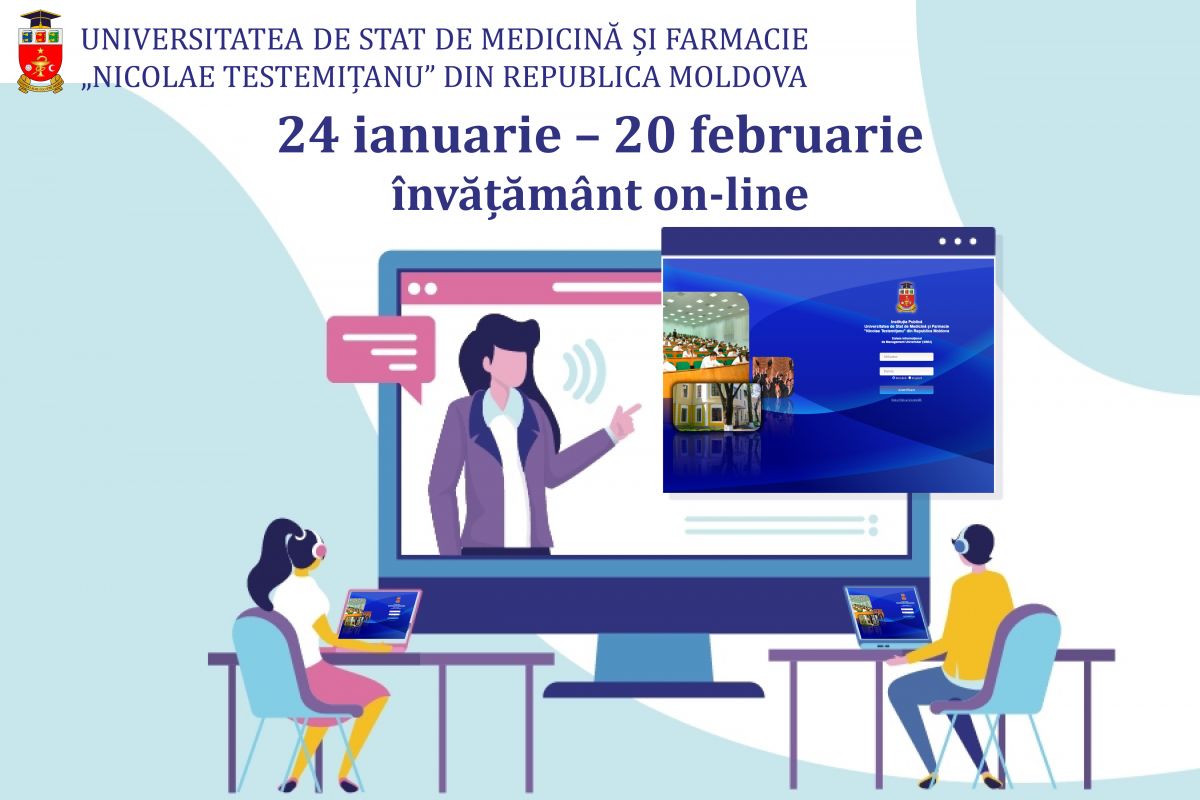 As of today, January 24, 2022, the educational process at Nicolae Testemitanu University will take place remotely pursuant to Rector's Order No. 15-A of January 21, 2022, based on Decision of the National Extraordinary Public Health Commission (NEPHC) No. 2 of 20.01.2022, Circular of the Ministry of Education and Research No. 04 / 1-09 / 184 of 18.01.2022 and the Instruction on protection measures to be applied for the organization of activities of public and private institutions in the epidemiological context of COVID-19.
Thus, lectures, seminars, practical and laboratory classes, consultations and catch-up hours will occur online under all programs and for all years of study except for sixth-year students – Medicine study program, M1601-M1621 groups; fifth-year students – Pharmacy study program; fourth and fifth-year students – Dentistry study program and third-fourth year students – Nursing study program, which shall continue the training in mixed format.
At the same time, the clinical activity will be conducted as usual, according to the current study schedules and programs.
In this context, Rector Emil Ceban has mentioned that "the safety of teachers, students and employees is a priority for the entire academic community. To this end, we have established a well-structured scenario, so that the educational process is carried out properly, ensuring strict compliance with NEPHC decisions".
The document also stipulates that scientific events – conferences, symposia and congresses – are organized exclusively online.
At the same time, the access to the gyms of the University Sports Complex from Malina Mica district will be limited and allowed only based on the COVID-19 Certificate.
NEPHC made this decision due to the worsening of the epidemiological situation in the country and the increase in the number of coronavirus cases among children, pupils and young people.
Currently, 5711 young people are studying at Nicolae Testemitanu State University of Medicine and Pharmacy, of which 1856 are foreign citizens.
Preluarea informației de pe site-ul USMF "Nicolae Testemițanu" poate fi efectuată doar cu indicarea obligatorie a sursei și a linkului direct accesat pe www.usmf.md.